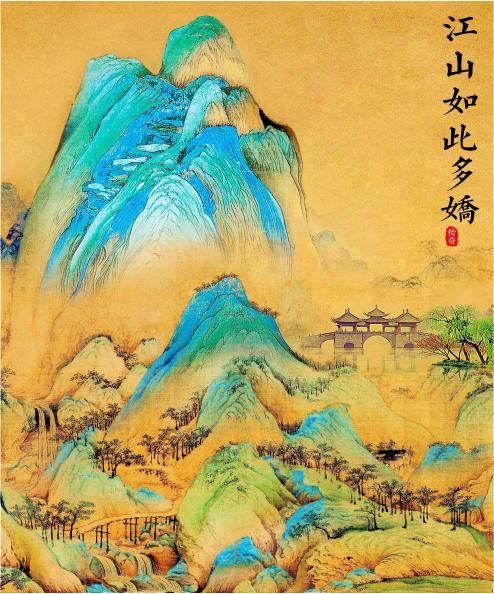 YANGTZE PANORAMA CRUISE

Chongqing → Shanghai
11-Day CruiseSailing Through the Heart of China
Visiting More Than 6 Provinces & Cities
Savoring Delectable 3 Main Chinese Cuisines
Authentic Shore Excursions to 6 National 5A Scenic Sites
Cruising along the Magnificent Yangtze 3 Gorges
Pacing Tour at the 4 Mega Dynamic Cities
Cruising through 6 Historic & Cultural Ancient Cities
* ALL THE WAYS TO EXPLORE *
THE BEST WAY TO EXPERIENCE CHINA'S HISTORY CULTURE & NATURE
ALL

INCLUSIVE
CRUISE

Comfort Accommodation

Exquisite Cuisine

Selected Drinks

Shore Excursions

Cultural Activities

Pre-Paid Gratuities

Transportation

Guide & Escort

Unlimited Wi-Fi

Luggage Handling Service
Award-winning Initiate Luxurious Cruise Ship
Deluxe Cabin with Private River-view Balcony
Elegant Casual Ambience & Enrichment Programmes
Unlimited Selected Drinks Throughout the Cruise
High Staff-to-guest Ratio Ensures Personalized Service
From/to the Cruise for Disembarkation & Embarkation
Immersive Exquisite Dining Experiences
Free Gratuities,Luggage Handling,Service Charge
Professional English Tour Guide Service
In-depth Exploration and Easygoing Touring Excursions
Free and Unlimited Access to Shipboard Wi-Fi
Delicacy Welcome Fruits on the Embarkation Day
Sailing Dates in 2023
(11 Days 10 Nights Cruises)
CHONGQING to SHANGHAI
October 10th,2023 -- October 20th,2023 October 31st,2023 -- November 10th,2023
DAYS
PORTS / CITIES
GENERAL ITINERARIES
MEALS
Day 1
Chongqing
Embark Your Cruise at Chaotianmen Port.
(*Century Cruises: Shuttle bus at airport / railway station to the port)
Safety Briefing.Captain's Welcome Party
D
Day 2
Fengdu
Touring at Fengdu Ghost City
Captain pilot house tour & Lecture about the Three Gorges
Enjoy the grand War Fire of the Three Kingdoms Show
B/L/D
Day 3
Fengjie
Option-A: Visit the historic & cultural site of the White Emperor City.
Option-B: Visit the magnificent "Peak of the Three Gorges"
Immerse into the magnificent Qutang & Wu Gorges.
Sail through the 5-step ship locks of the Dam
Themed Party Activities
B/L/D
Day 4
Yichang
Shore Excursion to the River Closure Memorial Park & the Three Gorges Dam Project Museum.
Lecture about Three Gorges Dam and Ship Lock
Immerse into the gorgeous views of the Xiling Gorge.
Crew Cabaret Show at night
B/L/D
Day 5
Jingzhou
Option-A: Shore excursion to Xiongjia National Archaeological Site Park .
Option-B: Shore excursion to Jingzhou Museum & Jingzhou Ancient City Wall.
Enjoy your movie time in the theater.
B/L/D
Day 6
Wuhan
Take a tour to the Yellow Crane Tower. Indulge into the national treasures and precious cultural relics at Hubei Provincial Museum.
Line Dance Party with classic music in the bar to amuse your night.
B/L/D
Day 7
Jiujiang
Option-A: Having the in-depth tour to Jingdezhen Porcelain Town.
Option-B: Join in a full day shore excursion to the famous Mt.Lushan.
Live Music Masquerade will amuse you at night onboard
B/L/D
Day 8
Chizhou
Option-A: Join in a full day shore excursion to the famous Mt.Jiuhua
Option-B: Shore excursion to Jindizang Temple
Onboard Activity:Karaoke
B/L/D
Day 9
Nanjing
Shore excursion to Mt. Niushou Cultural Park.
Take a tour to Muyan Riverside Scenic Site after lunch.
Onboard Activity: Demonstration of Hospitality & Service Skills by the Crew
B/L/D
Day 10
Yangzhou
Take a relax walking tour to Dongguan Street,then visit the famous Slender Lake.
Photography Sharing Salon about the Yangtze & Cruise
B/L/D
Day 11
Shanghai
Disembark at Shanghai Port International Cruise Terminal.
(Opposite to the Pearl Tower)
(*Century Cruises: Shuttle bus to Shanghai Airport / Train Station.)
B
All itineraries and cruise details are subject to availability and may be withdraw or changed at any time.
FOR THE MOST CURRENT AND UP TO DATE INFORMATION
PLEASE CHECK ONBOARD DAILY SCHEDULE

CENTURY EXPERIENCES
Cruise the Difference


CENTURY TASTES
Savor the Difference

THE YANGTZE RIVER CRUISE

A Yangtze River Cruise, winds through thousands of miles of incredible natural beauty taking in centuries of Chinese culture.
China , it's a country of phenomenal geographic and cultural diversity and is reputed to be the single oldest uninterrupted civilization in the world. It is a country of old and new cities, earthly and ethereal landscapes, and unforgettable ancient historical sights. It's a country of natural splendor. From the majestic Himalayan mountains to the mighty Yangtze River , the land is broad and diverse. The vastness and profoundness of this great land can't be fully explained with words- it needs to be experienced by the senses!

There are many ways to travel through China , but none compare to the intimate, luxurious, stylish, and sophisticated experience of a river cruise.

The Yangtze River Cruising —The Best Way to Explore China's Culture, History & Nature !
MAIN CITIES TO EXPLORE BY CRUISING
CHONGQING

Chongqing is the largest municipality in southwest China. It is a modern port city on the upper reaches of the Yangtze River. Chongqing was separated from the province and designated a provincial-level municipality under the direct administration of the central government, the fourth one (after Beijing, Shanghai, and Tianjin) to be established in 1997.Chongqing makes up for a lack of top-notch sights with fantastic food and charismatic geography, Chongqing is undergoing a stage of dramatic redevelopment, making it a fascinating city to visit for any traveller. There's nowhere else in China you'll see a dramatic glass skyscraper next to precarious stilted houses and eateries centuries old. Chongqing is undergoing a stage of dramatic redevelopment, making it a fascinating city to visit for any traveller.

WUHAN

With the Yangtze River running through the city, Wuhan was once nicknamed the "River City." In addition to that, Wuhan has been referred to as the "Chicago of China" due to its role as a transportation hub for central China. It was even, at one point, described by way of an ancient Chinese idiom from the Ming Dynasty as "九省通衢 (jiu sheng tong qu)," which means that Wuhan is easily accessible by water or land from nine provinces in China. Today, Wuhan is still the transportation hub of Central China. In addition, Wuhan is also recognized as the third largest technological and educational center in China behind Beijing and Shanghai. It is also a key finance, commerce, logistics and cultural center of Central China, even being colloquially known as the "golden key" to the enormous markets located within China's central areas.

NANJING

As one of the most attractive major cities in China, Nanjing (historically Nanking) is situated in the lower reach of the Yangtze River. It sports a long historical heritage and has served as the capitals of six dynasties. With the Yangtze River on the north side, and surrounded on the other three sides by hills, Nanjing was thought to be auspicious as well as strategically important. The Nanjing area has been inhabited for about 5000 years, and a number of prehistoric sites have been discovered in or around the city. Today, Nanjing is the capital city of Jiangsu Province, covering an area of 6,421 square kilometers with a population of over 5.37 million. Its industries included machine-manufacture, automobile, assembly, electronics, petroleum, iron and steel, textile, shipbuilding and foodstuff.

SHANGHAI

Shanghai is situated on the banks of the Yangtze River Delta in Eastern China. Widely regarded as the citadel of China's modern economy, the city also serves as one of the most important cultural, commercial, financial, industrial and communications centers of China. Shanghai continues to grow and prosper, meeting the aspirations of the 21st century, whilst retaining its proud traditions of service and hospitality. The Oriental Pearl TV Tower, Jinmao Mansion and Pudong International Airport are the modern symbols of an international metropolis, whilst the Shanghai Museum, Shanghai Grand Theatre and Shanghai City Planning Exhibition Center are evidence of the extensive and deep passion of a great city that extends a warm welcome to friends from all over the world.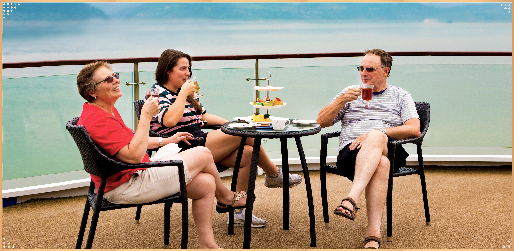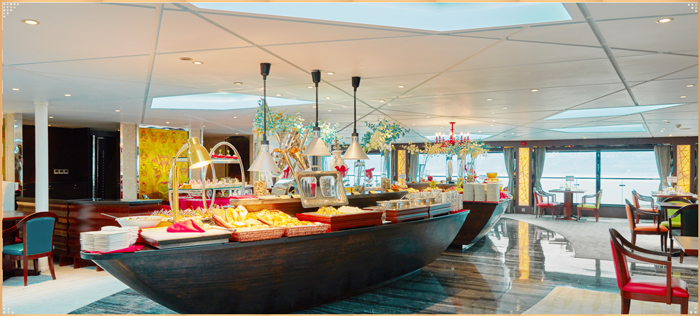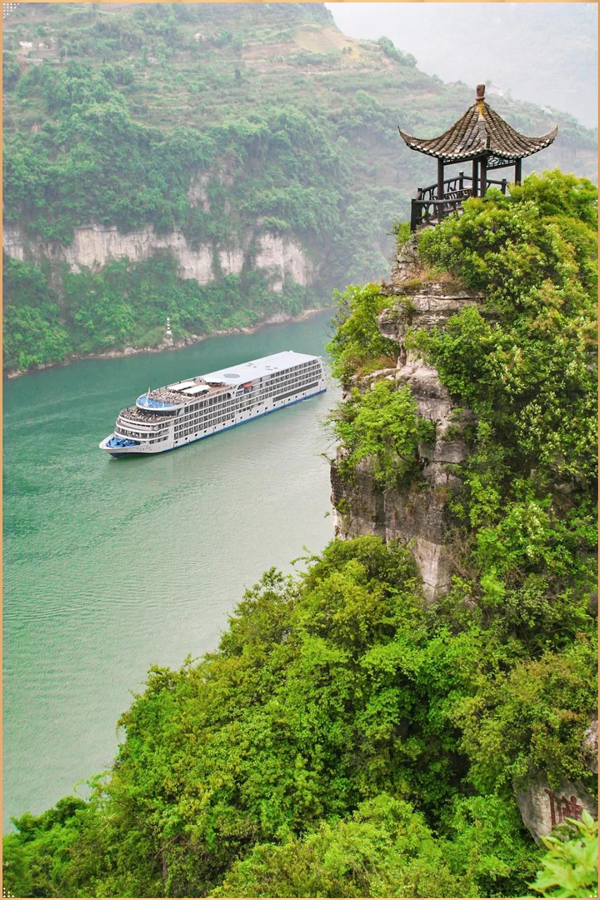 YANGTZE PANORAMA CRUISE
CENTURY LEGEND
Ship Name: Century Legend
Owned by : Century Cruises
Rating: ★ ★ ★ ★ ★ plus
Max. Speedy: 30km/h
Crew: 150
Capacity: 398
Beam: 19.8m
Length: 141.8m
Draft: 2.8m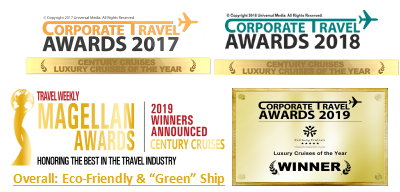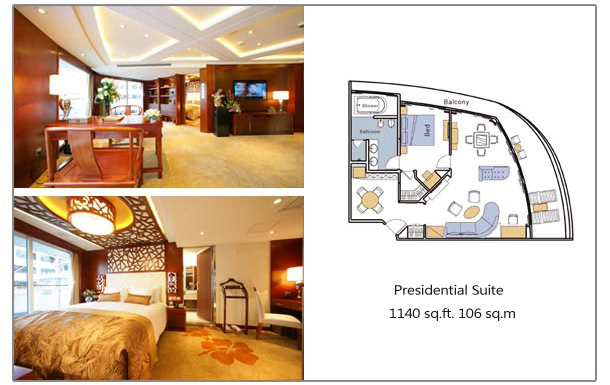 | | | | | | |
| --- | --- | --- | --- | --- | --- |
| Room Type | Number of Cabins | Area(㎡) | Bathroom | Bed Size | Balcony(㎡) |
| Presidential suite | 2 | 106 sq.m | bathtub & shower | 2.0m*1.8m | 30 sq.m |
| Executive Suite | 34 | 38.5 sq.m | bathtub & shower | 2.0m*1.0m | 3.6 sq.m |
| Deluxe cabin | 156 | 28 sq.m | bathtub & shower | 2.0m*0.9m | 2.8 sq.m |
Zero Paint Healthy Cruising
Electronic Propulsion System
7-story Grand Atrium Lobby
Four Propellers Flexiable & Stable Model
Indoor Heated Swimming Pool
Exclusive Executive Suites Decks
HD Cinema with Conference Function
Purified Drinkable Tap Water in Every Cabin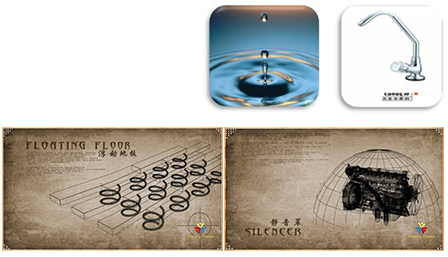 Sailing Dates in 2023
CHONGQING to SHANGHAI
11D10N
October 10th -- October 20th ,2023
October 31st -- November 10th ,2023
SHANGHAI to CHONGQING

12D11N
October 20th -- October 31th ,2023
November 10th -- November 21st ,2023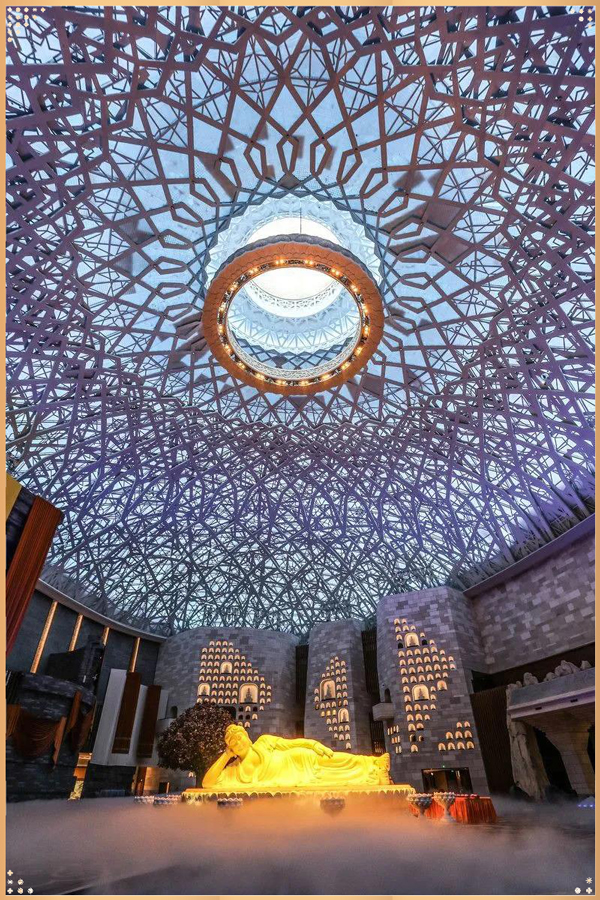 OUR YANGTZE CRUISE, WHAT YOU NEED TO KNOW
What are the rooms like?
You'll be staying on a Yangtze Cruise named as Century Legend or similar ship. The rooms are all at least 28 sqm and have two single beds or a double bed. All rooms have a private balcony, air-conditioning, a safe and a refrigerator. Hot water thermos flasks are in each room as are a limited amount of bottled water. The voltage in the cabins is 220v.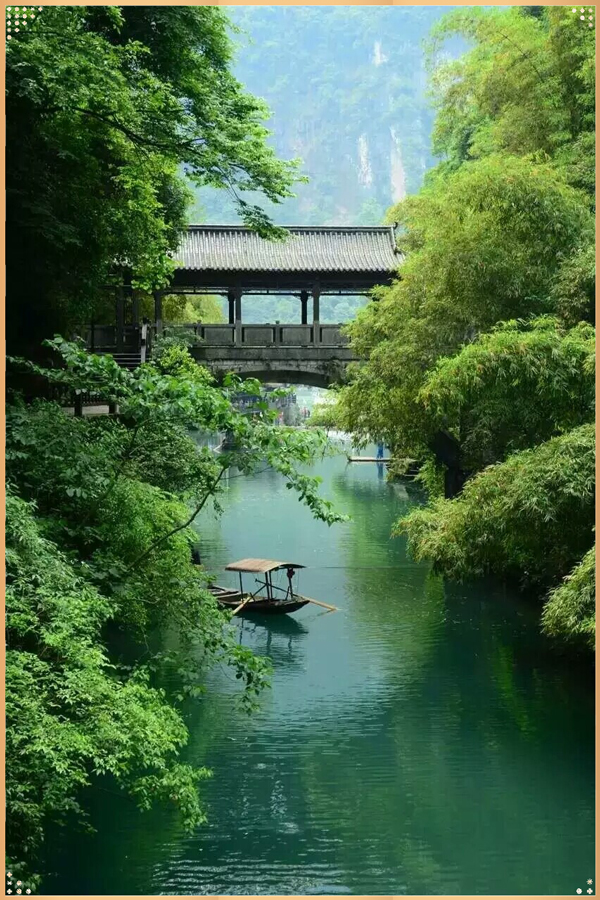 Are meals included?
All meals are included and there are further places to buy other snacks on the ship. Breakfast lunch and dinner are served buffet style with mostly western dishes. For those that prefer western dining in the evening, a VIP dining option is available that has more western dishes on offer. A reminder to never drink the tap water either on the cruise ship or anywhere in China. Bottled water is available on board and accessible everywhere.
Is there Wi-Fi?
Although the cruise ships have Internet access, the Wi-Fi is very patchy and certainly not to be relied on due to the unstable reception, it works best in cities area. Why not enjoy a few days unplugged instead.
The Yangtze River Cruise -- The Best Way to Explore China's Cultural, History and Nature !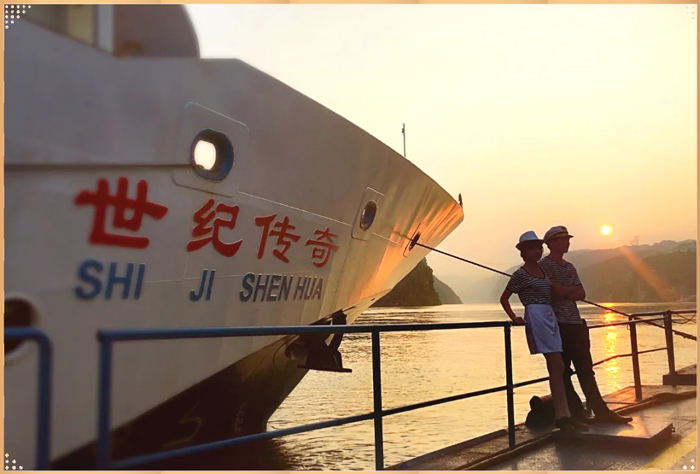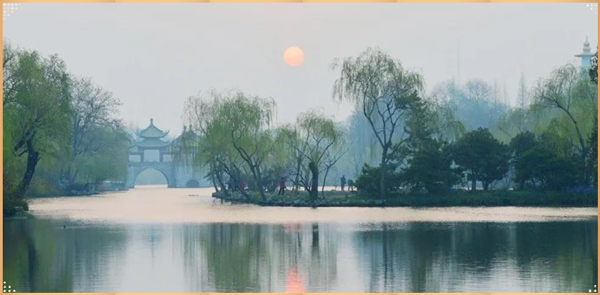 What's the entertainment like?
From welcome parties to fashion shows, film screenings and lectures, Tai-Chi classes to karaoke – there is a wide array of entertainment options on offer with a full schedule provided upon arrival. There is also a gym, swimming pool, a spa, a library and a variety of small shops too.
What about paying and tips?
Major credit cards are accepted on board and most purchases will be put on your cabin bill and paid for at checkout. Generally,tip is appreciate by the people who provide you excellent service. A mandatory cruise service charge will require to be paid upon checkout. This is then pooled and shared between the staff.